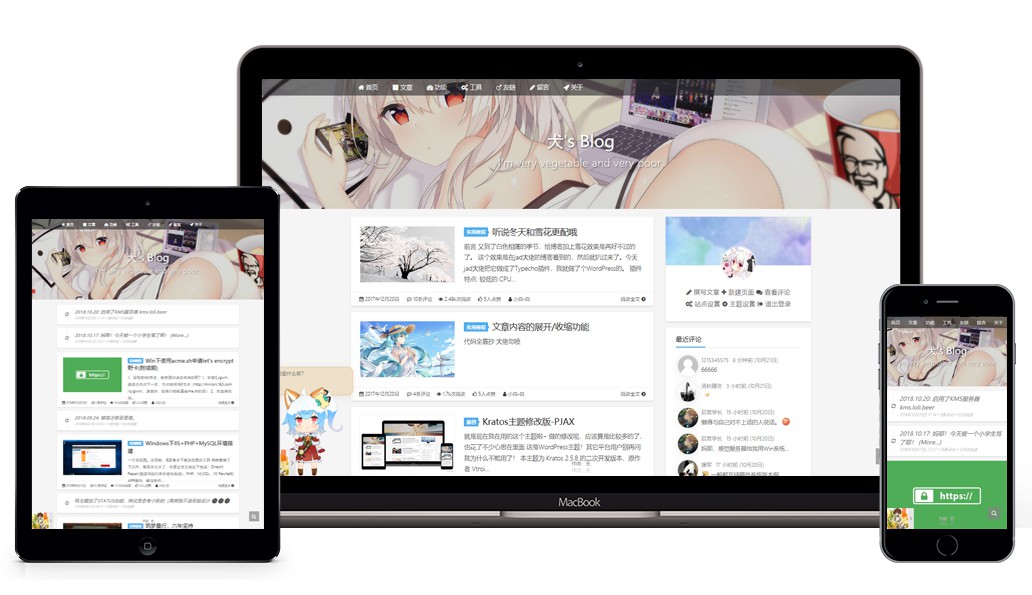 🍦 Wow, such a lovely WordPress theme
Introduction
Kratos: A clean, simple and responsive blog theme of WordPress, based on Bootstrap and Font Awesome.
This is a secondary development version of Kratos. For the original version, please visit https://github.com/Vtrois/Kratos.
Before start
Star this project please, thank you!
任何人都可以免费使用此主题,但希望可以保留主题页脚的版权信息,捐赠与 star 纯属自愿,所以不用再问我能不能用了。同时这是一个自用性质的主题,我自己需要的功能都已加进主题了,写的也很乱,所以可能无法兼容一些插件。如果遇到问题,请先查看使用文档,还不行请求助谷歌,如果此问题在我的博客站点一样复现了,请提交 issue (但不保证解决)。有关插件兼容问题和自定义修改问题就不用再联系我了,请自行取舍主题与插件。关于主题定制问题请基于原主题,联系主题原作者,谢谢。
Supports
Docs
Suggestions and BUG report
Help localization
We encourage everyone to help with localization. The following is how to do:
Fork this repository

Use Poedit translate /languages/language.pot to your own language then save it like en_US.mo and en_US.po

Copy it to the /languages/ path

Make a Pull Request
Donate
I accept donations through: Alipay / Wechat Pay / QQ Pay , thank you!
Used open source projects
License
Author
Kratos-pjax © Vtrois, Moedog, Released under the GPL-3.0 License.

Blog moedog.org · GitHub @xb2016 · Twitter @moesdog · Telegram @xb2016